I recently came across Dolls from Heaven: a wonderful ministry that celebrates and evangelizes our faith through beautiful little dolls! These little dolls are already making a big impact. I was intrigued, so I reached out to the Kiczek Family and asked if they'd like to be featured on our blog. They've graciously given us some great information on Dolls from Heaven and how you can be a part of their ministry. Enjoy!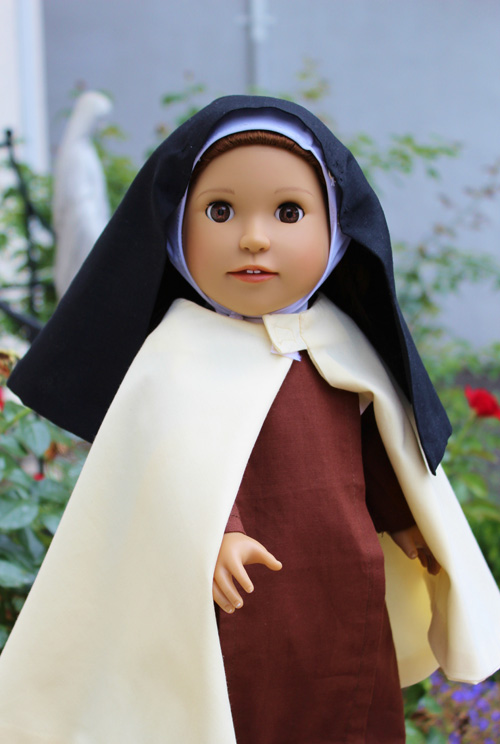 What is "Dolls from Heaven" and what part do you play in the ministry?
As a family and through the inspiration of the Holy Spirit we created "Dolls from Heaven", which is a doll company with a mission "To Inspire Children to Become Saints". Currently, we have our first doll, St. Therese, completed. It will be available to be shipped out in December. These saint dolls will always come with a book based on the saint's life. We pray that these stories will bring children closer to Jesus through the lives of the Saints. Everything we do for Dolls from Heaven we do as a family. As the father, I do most of the promoting and answering blog responses and interviews. I also help complete the final packages that go out. My wife does almost everything as well, including customer service and everything in between. Our daughters split up responsibilities such as promotional work, packaging, shipping, photography, artwork, and assist with the final designs and proofreading. Every member of the family has put all their effort into this ministry.
Describe your special relationship with St. Therese and how did it begin?
My relationship began with St. Therese during my formative years, as she was one of my mother's favorite saints. My mother always had a story about getting a rose from Therese. I got my first Rose when I was praying for my wife to get closer to Jesus. She did and I got a Rose that was on the cart of a homeless women who had the largest Rose I had ever seen in the middle of her stuff. I shared Jesus with her and when I left her I realized that the Rose was for me. Beautiful! Since then, St. Therese has been a big part of our family and one of our favorite places to go is the St. Therese Carmelite Chapel in the Bergen Town Center of Paramus, NJ. Once we had decided to start Dolls from Heaven, the decision to start with St. Therese was easy. The whole family agreed that she should be the our first 18-inch saint doll. She is the Little Flower, one of the most popular saints, and she already had a book about her life. All we needed to do was to adapt the story to a children's story. St. Therese was the perfect doll for us to start with, because she has inspired millions of people through her Little Way and now we hope she will inspire millions of children to become saints.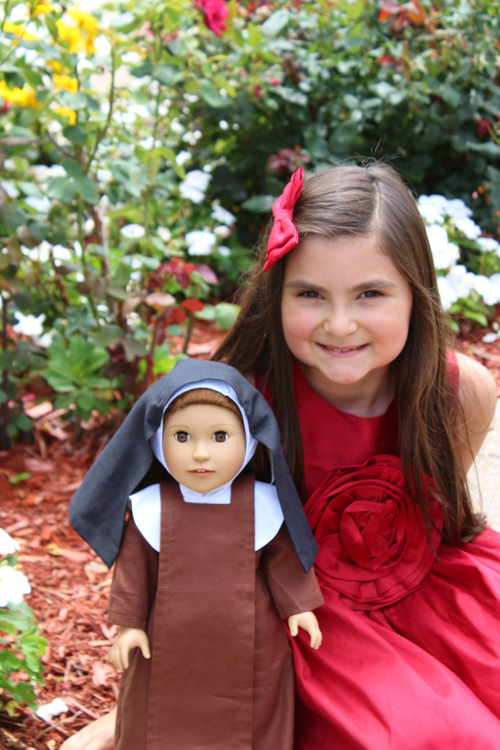 How did the doll come about and when did you decide to use it as the basis for your ministry?
Once the idea came to us on May 24th of 2014, we slowly worked out the details over the next year. We did a sketch and found a manufacturer after having some communication difficulties with the first one. The doll was always to be the basis of this ministry as the thought that came to us initially was: Why wasn't there any beautiful 18-inch saint dolls? We decided it would come with a book and thus the combination of play and reading will truly inspire children to become saints. Through Therese's Little Way, anyone can aspire to becoming a saint. In addition, the doll and book is a perfect match as the beginnings of the ministry and we hope to someday have at least twenty saint dolls. St. John Paul II is the next doll we are planning to make.
St. Therese tells us to "Do small things with great love." While these dolls are little, they seem to be making quite an impact in the world. What are some of the stories you've heard that show the beautiful impact these dolls are making in peoples' lives?
The first shipment of the dolls was just received over the last week and the effects are just beginning. The parents are more excited for the future joy of their children as most are waiting to give the doll to their children for Christmas. They have already sent pictures and are so excited. So far, it appears as though the adults are being affected as much as the children. In fact, on one of the first times we took our doll out on a trip, a man was so captivated by the doll that we were inspired to start "Therese's Little Missionaries", which involves taking the doll on "Mission Trips" to school, CCD, fairs, church; anywhere you can think of to use St. Therese as a witness and help inspire even more people. We took "Therese" to see Pope Francis in Philadelphia and the people who loved the doll most were the nuns. They loved her! It was beautiful to see the joy in their hearts as they saw St. Therese in doll form. It was a lot of fun.
What is the ultimate goal of Dolls from Heaven?
Our ultimate goal is to inspire every child in the world to become saints!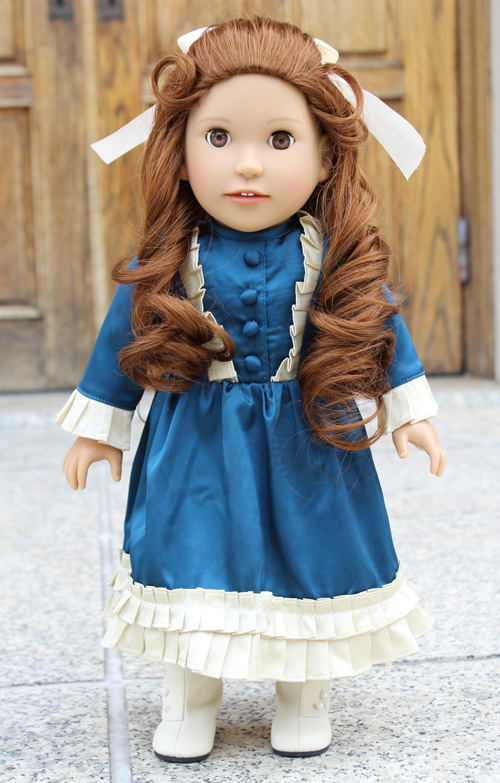 St. Therese in her Sunday Best
How can we help your ministry?
Prayer is what we need most of all. We could also use your support in ways such as spreading the word through social media and person-to-person. And of course, getting your very own Therese doll for your children, grandchildren, nieces, and don't forget your Godchildren!
For more information or to purchase a doll of your very own, visit: www.dollsfromheaven.com
Many thanks to Dolls from Heaven for joining us at The Purified Palate!