Happy Feast of the Most Holy Trinity!
It's June 11th, which means we are getting SUPER close to meeting our little one!
While I've been busy nesting, I've been re-thinking what I'm packing in our diaper bag for a newborn this time around.
Here's a list I've narrowed down to from my first round as an over-prepared new mom. I hope it helps lighten your diaper bag load!
What's in my diaper bag
Diaper-changing clutch-I prefer this awesome gadget to just a changing pad and wipes from a diaper bag, because it's wrapped up with diapers and wipes so you can grab it separate from the bag and take it on walks, into a cramped bathroom, etc. You can also attach a little bottle of sanitizer to the wrist band in case there's no place to wash your hands after changing. Make sure it's stocked with 4-5 diapers and a packet of wipes. I love using this re-stockable wipe container and will re-stock it with a cleaner alternative of wipes once the first batch runs out.
Extra pacifier and paci-clip (if baby uses one)
Arm and Hammer Paci Wipes-these are great for wiping down dropped teethers, pacifiers, or bottle tips if you're nowhere near a sink.
Change of clothes (including socks)-because messes happen!
If you're breastfeeding, I love this non-toxic nipple cream by Mother Love. It comes in a super-small jar to save space in your diaper bag!
Wet-dry bag or gallon zip lock bag-to contain a fresh set of clothes and store the messy or damp clothes
The Microcube- This brilliant little invention is super compact and allows you to collect that first 2-3 oz of breastmilk during your letdown on the opposite breast from the one baby is feeding on. Instead of letting it get soaked up by a breastpad, this collects the milk for you. Quick tip-once the Microcube has collected the initial letdown, set it into a mug or into something to prevent it from getting tipped over so you don't cry over spilt milk;-) Pour the milk into a bottle for the end of the feeding to give baby those extra ounces, or store in the fridge for later!
Baby Calming Diaper Rash Cream-Beautycounter for the win, again! Their non-nano zinc-oxide, fragrance, soy, and nut free formula is super nourishing and doesn't leave a super greasy-residue; making it safe for cloth diapers! Their products bring such peace of mind knowing there aren't any toxic chemicals or skin irritants. If you or your littles struggle with eczema or other skin issues, I highly recommend the entire Beautycounter baby line! Tip: Use this for underbra-itch caused by excess moisture from breastfeeding!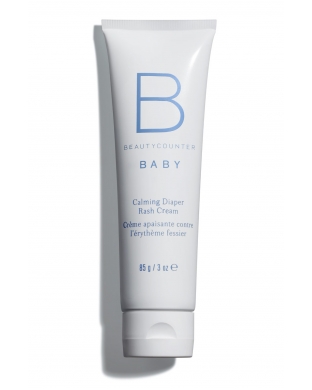 Snacks/food pouches for little ones eating solids
Bottle of hand sanitizer-I really like the Babyganics foaming sanitizers, which last a very long time!
Bottle or sippy cup-choose ones that don't have a million pieces to clean! Here are two options I LOVE and make life so much simpler!
Nalgene Grip-n-Gulp Water Bottle
Both options are BPA free and are SUPER durable if they get dropped or stepped on!
Powdered formula and bottled water-if not breastfeeding
Muslin or flannel swaddle-depending on season. These can add extra warmth in the carseat or stroller, provide extra shade, be placed on the ground for play, act as a burp rag or towel in a pinch. The Aden + Anais muslin swaddles are high quality and will last for multiple babies! If you need a lower price-point, Aden + Anais has a line of products called "Ideal Baby" that uses a lower thread-count-but you can hardly tell the difference in quality!
If it's summer, pack sunscreen and a hat! I LOVE Beautycounter's sunscreen stick. It's non-toxic and safe if accidentally ingested, and it goes on like a deoderant stick. You can hold your busy toddler still with one hand and there's no greasy mess! Plus, I love how small and compact it is.
Small nail clippers and file-I swear their sharp little nails grow overnight!
A few small books or toys
Phone charger
Teether- while you won't need this until baby starts teething, the chewable Rosaries from Chews Life are adorable and would also make a great Baptism gift! They are durable so you can also use it for your own prayer in your busy day-to-day without worrying about your little one breaking it.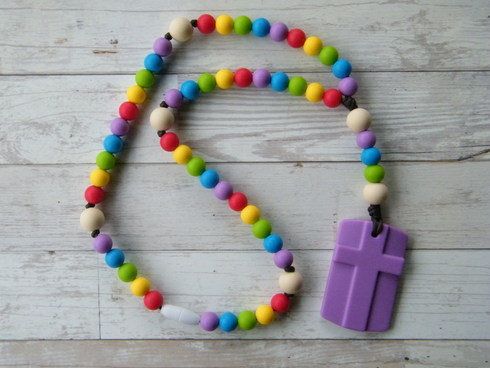 Photo courtesy of chewslife.com