I'm tucked away in a cafe on a chilly December afternoon in Evanston, Illinois, with some awesome company: Cassie Pease of Cassie Pease Designs! I have to admit...I'm truly humbled by this inspiring woman. She has so much talent and instead of using it in the realm of secular design, she uses it to glorify God. Through her beautiful work, she is doing her part in the New Evangelization by inspiring, educating, and evangelizing fellow Catholics and beyond! Cassie has graciously allowed me to interview her so that you can get to know the artist behind these powerful designs. I hope this interview inspires you as much as it did me!
Cassie is a Catholic graphic designer from South Dakota. Her mission is to combine the wisdom and joy of the Catholic faith with beautiful and colorful imagery that inspires people to discover (or rediscover) the joy of a life lived for Christ. The saints, who are great examples of this joy, have become a main source of inspiration for her work.
As you were growing up, how did your faith formation inspire you to use your talents to glorify God and inspire your fellow Catholics?
While growing up, my parents were a huge influence on me. They shared the faith at home and that was beautiful to see. That gave me a very good foundation, which wasn't something I realized at the time. It was during high school that I really began to take ownership of my faith and it became something I began to love and wanted to grow in. I went through a couple of catholic camps and those were really inspiring for me. It was amazing to see people growing in their faith and fired up about it. I grew up in a small town that didn't have a lot of faith-growing opportunities, so in high school I began to seek them out on my own.
The camps I went to were called, "Discipleship Camp", and they are held in the Diocese of Sioux Falls, South Dakota. There were about one hundred campers each year. Then, in college, I was involved with Totus Tuus for two years and had the opportunity to go back to Discipleship Camp and be a counselor to campers. This was so awesome, because I was able to help grow the faith of campers who were at a place in their life just like I was back then.
What was the key turning point in your faith life?
It was definitely at the Discipleship Camp in high school when I experienced Eucharistic Adoration for the first time. Some of my fellow campers were crying. You could tell the depth of emotion they were feeling when in His presence. I could tell they were so touched and into it. It really made me think about how incredible the Eucharist is and it became so beautiful and important to me. After seeing that, I felt something different there. My growing love for the Eucharist totally changed the Mass for me. It changed everything and started a spark. I wanted to know more and grow in my knowledge of the faith. It began to build on everything my parents provided for me growing up. They cultivated fertile ground for my faith to grow on and this turning point really made it take hold.
How did you discover your love for design?
I first started doing the Catholic wallpaper designs in college when I got requests from friends to make wallpapers with some of the popes, the Sacred Heart, and Mary. When I got out of college, I worked as a graphic designer for a winery. That was great experience, but when I came home in the evening, I would dive into the saint designs. Those designs are the most inspiring for me because the focus of the design is not to simply sell a product, but to show the beauty of a human soul that is illuminated by the light of Christ.
Have you ever been commissioned to do a design?
Yes and each time has been a great opportunity to learn about The Saints and other important people in our faith. Especially ones I don't know very well. St. Arnold Janssen is one example. He is most well-known for founding the Society of the Divine Word.
You were recently asked to join the team at Word On Fire Ministries. How has this experience influenced your work as a designer?
Word On Fire really has its own unique style. We use a lot of older paintings like renaissance-era work. It has really opened up my style of doing things. It's so different from what I would normally do when designing with the saints, because there is something about this aspect that really brings out a solemn and more sacred tone; a tone that really holds you there when you're looking at it. I definitely appreciate that and you can see some of that influence in a few of my newer designs. A good example of what I'm describing can be seen in the Blessed Pier Giorgio Frassati "Flame of Faith" piece.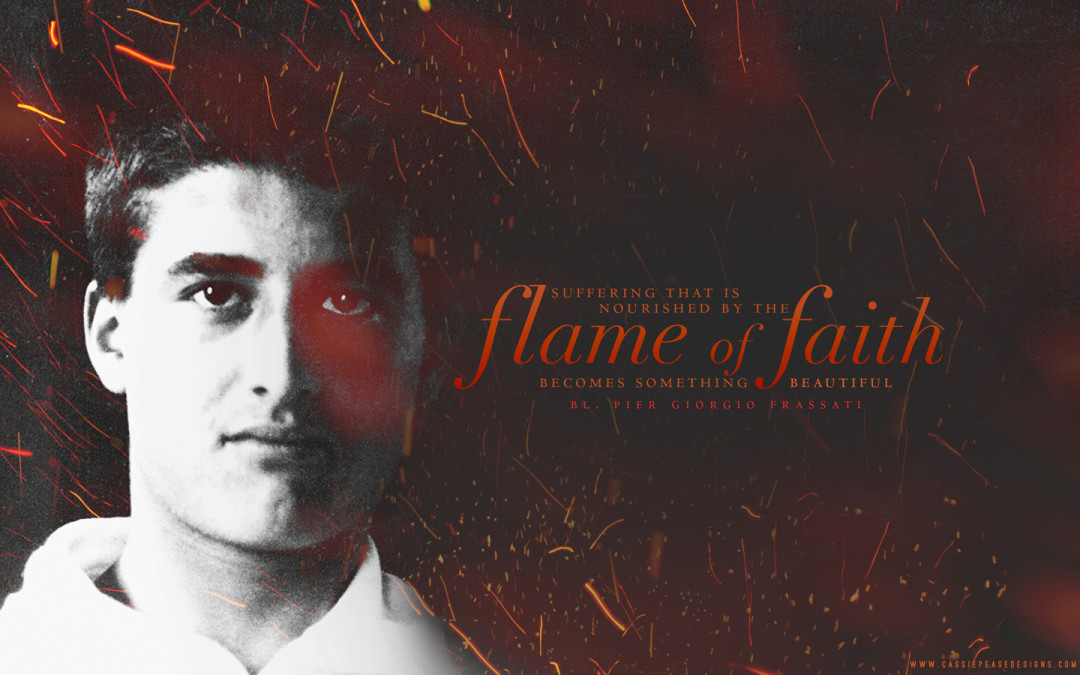 As a woman, what unique gifts help you as an artist?
Our ability to empathize helps me really get to know the Saints and understand them when designing. An example is the design of St. Gemma Galgani. Her eyes cut to the soul. Also, trying to get into their heads a little bit helps with the designs when I'm creating them. One woman saint that I really relate to is St. Therese of Lisieux. When I was young, I didn't really get why people loved her so much. Two-and-a-half years ago, two of my sisters entered religious communities. One entered the Society of Our Lady of the Most Holy Trinity and the other entered the Capuchins in Pennsylvania. Seeing the witness of the love St. Therese had for her sisters while they were away with the Carmelites and the love she showed to her family, and then realizing that it all comes from God….that was really beautiful to me because I was experiencing the same thing. I really missed my sisters and, knowing St. Therese had a similar experience, helped me get through it. She lived with such simplicity and littleness, but her great love was really powerful.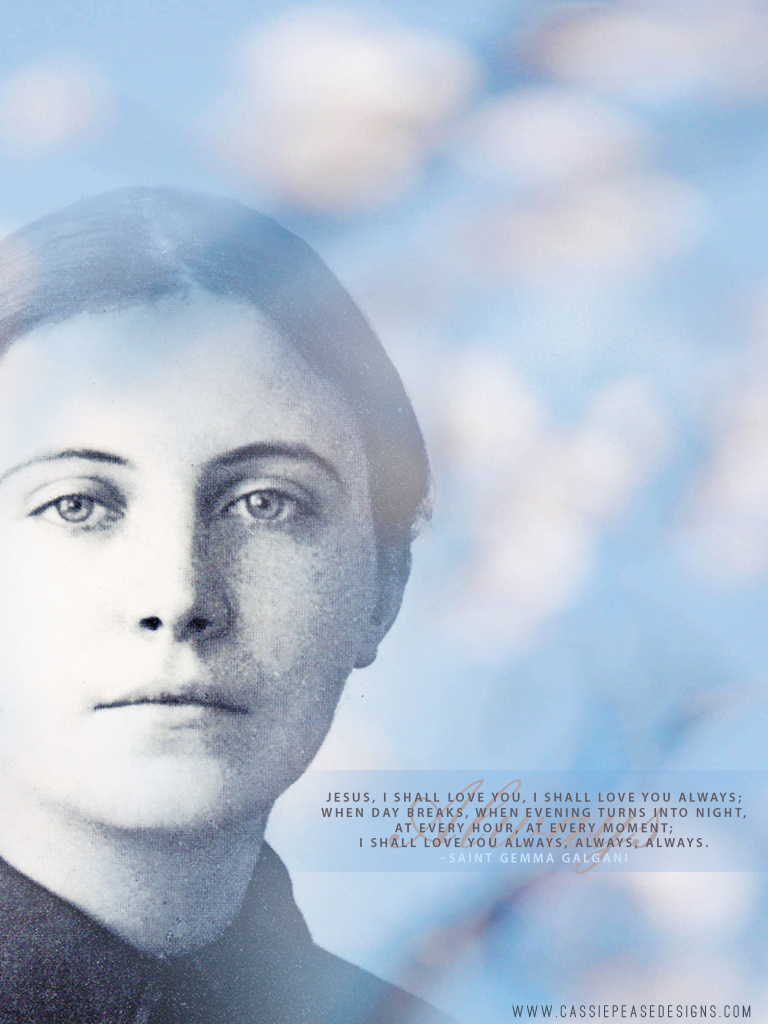 Obviously, your spirituality has a huge influence on your work. What do you do in your day-to-day life to strengthen your faith and in turn, your work as a designer?
Daily Mass has become a staple for me. I'm so blessed to be able to go to Mass at the chapel in the Word On Fire office. I also love to go to Adoration and pray the Rosary and Divine Mercy Chaplet.
How do you see your work as participating in the New Evangelization?
I've definitely seen my work online and on social media, and I think it's a really cool way to open up the conversation of our faith. If someone sees one of my designs on a laptop or phone, people become curious and wonder what it's about. A funny example is one time, I was buying something and I had my wallet out. I had some of my designs printed on wallets and the cashier saw one that I was using. They then asked me if it was my boyfriend! This provided a wonderful opportunity to talk about the saint on the wallet. This time it was Blessed Pier Giorgio Frassati-one of my favorites! (You can see some of these wallets in her online store).
It's also nice to see my designs posted and shared among Catholics on social media and how it opens up their knowledge of new saints that they may not otherwise learn about. There are so many and each one has a unique and inspiring story. Each one has something we can relate to! I've seen on Facebook that people will find me through a design of one of their favorite saints, but will then find other saints within my website that they didn't know about.
Which of your designs are your favorites and why? What inspired you to create these pieces?
I'm inspired by so many things. I find a lot of good publications through Pauline Press. Pauline Press is actually run by religious sisters, The Daughters of St. Paul. They are right here in Chicago! Their ministry is running bookstores and evangelizing through new media. I recently learned about their founder, Blessed James Alberione. It was cool because a documentary just came out about his life and it was beautifully done. I'll also read a quick biography on each saint; whether it's short or long and, sometimes, that is a great way to get introduced without getting committed to a big book. Then, if something about them really pulls at me, I'll keep researching them.
Who are some of your favorite saints that inspire your work?
I would say John Paul II. Another one is Josemaria Escriva. His book The Way is wonderful. It contains a bunch of little paragraphs of advice to different people he served as spiritual director for. It was so fun to learn about his work. He's great.
One of my favorite designs is one of Pope Benedict that says, "The One Who Has Hope, Lives Differently". That is such a powerful message.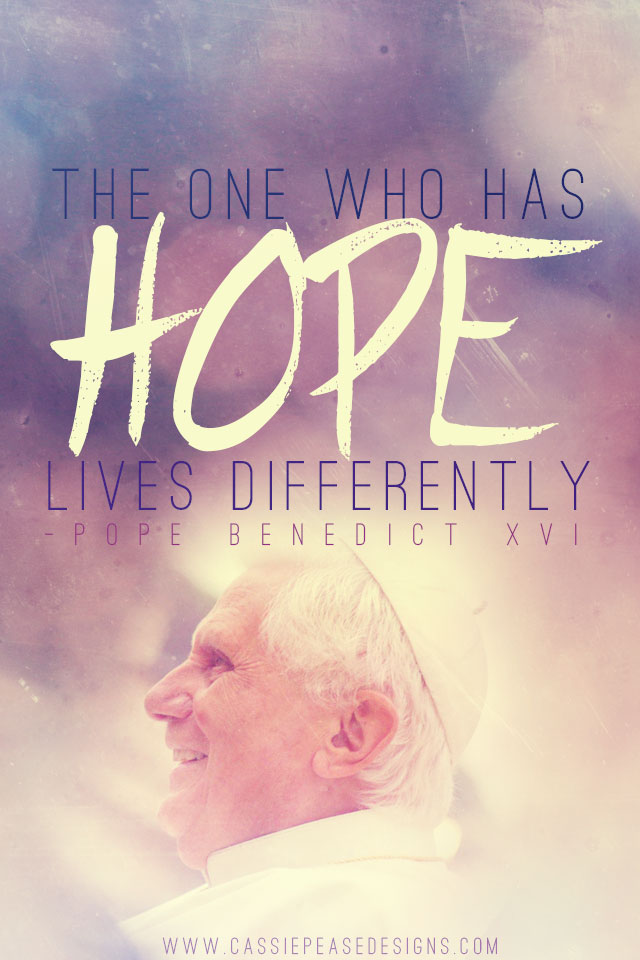 Are there any favorite pieces that inspire you as an artist?
There's this painting of the Sacred Heart. Jesus is staring right at you and there are tears coming down his face. It is such an emotional piece and really pulls you in.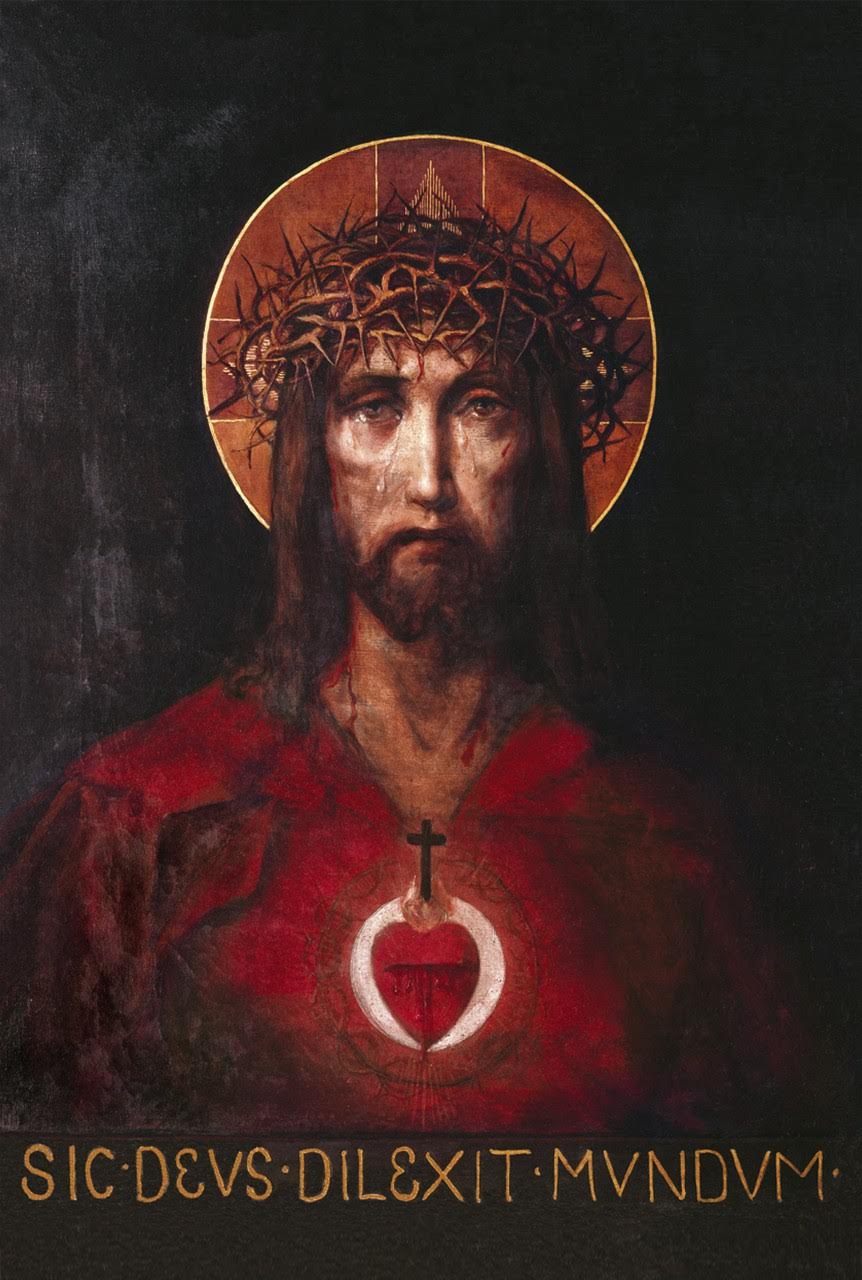 Painted by an unknown artist in the 1700s.
Latin translates to, "For God so loved the world", from John 3:16.
As an artist, what are your goals moving forward?
I don't really have big plans or goals for the future. I'm just letting God do with me what He wants. I never expected that I would be in Chicago doing any of what I'm doing now. But I think just as long as you have the faith and you're moving forward, God's going to lead you where you need to be. I obviously need to keep up with my design skills and then give it to God. We'll just see where that all takes me!
What words of advice would you give to your fellow Catholic women who want to glorify God in their career and/or vocation?
Use your talents for Him and surrender to that. That's ultimately how this all started; doing something that I love with the faith that I'm in love with. That blossomed into the designs I shared with others on Facebook. Then the designs were made into more usable and physical goods. It just kept growing from there! I feel so blessed to be able to do all of this and watching where He's taking it.