We now conclude our series with a moving interview with Kolbe's mom, Kim. I hope you've been moved as I have by the courage and beautiful witness to the dignity of human life that Kim and her husband Colin have shown by sharing the life story and legacy of their son Kolbe.

Today, I will ask Kim some very hard questions. She gives some very moving responses; responses that bring powerful perspective and voice to the mothers and families who've been through pregnancy and infant loss. Please join me in praying for all those who've walked or are currently walking this journey. Thank you for joining us. -Joan
How has Kolbe's life changed you and your faith? How has it made you and your faith stronger?
I am not the same person I was prior to having our son. He has completely changed me for the better. Because of his life and death I have really taken to heart how temporary life is and I realize how big of a gift that truly is. Because of the suffering we faced I have this strength I never knew existed. Because of his absence I will forever feel that pain of grieving him. Because of this loss I will have a greater respect and love for Colin as he showed and continues to show a strength I have never seen. These are all beautiful fruits of such a devastating loss.
A couple months after giving birth to Kolbe I went on a silent retreat in Nebraska. I went to the adoration chapel during the middle of the night and didn't even know what to say. I sat there in silence. Our baby boy died and I had blood clots in my lungs. I was exhausted spiritually, emotionally, and physically. I just sat in the pew and cried.
Throughout my pregnancy I consistently heard the song, Oceans, by Hillsong United playing on the radio. I believe that this was a God incidence. The lyrics really resonate with me as they describe how my faith was during Kolbe's diagnosis and beyond.
You call me out upon the waters. The great unknown where feet may fail.
And there I find You in the mystery in oceans deep my faith will stand.
And I will call upon Your name. And keep my eyes above the waves when oceans rise.
My soul will rest in your embrace, for I am Yours and You are mine.
Where feet may fail and fear surrounds me. You've never failed and you won't start now.
Take me deeper than my feet could ever wander.
As time has continued, Colin and I feel a part of our little family physically missing, but we can feel Kolbe's presence through the many graces God bestows on us. For example, we carried our miracle baby for 33 short weeks. I felt God's presence in the significance of the number of weeks he allowed us to carry our son as Christ was 33 years old when Mary witnessed the death on this earth of her son.
How has your experience affected your pro-life convictions?
I think it is one thing to have pro-life convictions based off your knowledge and belief, but it is another to have these convictions based off of experience. Colin and I met on The March for Life in Washington D.C., but I never thought I would be in the position to experience these choices first-hand. If ever asked, I would choose Kolbe every time.
Seeing the ultrasounds throughout my pregnancy and seeing Kolbe's progress in growth was proof of life at conception. He had rights the moment he was conceived. At my 12-week ultrasound he already looked like a little human in my tummy. I could see his heart beating. Why is it that a human with rights is declared dead when their heart stops and a baby forming in the womb (having a heartbeat 18 days after conception) is not considered human until after they are born?
What advice would you give to healthcare professionals when it comes to treatment of mothers and their unborn babies with dignity; both during pregnancy and after loss?
Help parents embrace their pregnancy. Don't encourage them to distance themselves because of the pain that comes from grieving the loss of their child. This is by far "the sourest lemon" life has to offer, so acknowledge their courage in choosing to advocate for their child and help them in doing that.
As a doctor you see this type of sorrow that comes with parents being given a challenging prenatal diagnosis. I know it is hard to experience, but don't be cold because you are scared of connecting with the mother and child. You are given a gift to be a part of such an intimate time of a family's life. Be thankful for this.
In addition, be straight forward. Don't give parents a false sense of hope in terms of their baby's diagnosis. If you are doing this, you are just adding to the devastation they face when they don't physically bring a baby home.
Lastly, when talking to parents about their baby; if they have named their child, say their child's name! So many times, my son was referred to as "baby". For the last time, my son's name is Kolbe, not "baby."
How do you feel pro-choice views negatively affect society's treatment of mothers who've lost their baby from miscarriage or a prenatal diagnosis?
They don't acknowledge our motherhood as they believe that a baby isn't a human life until its birth. My son was stillborn, so did he never exist? Their views make me feel as if my son's life has no significance. I feel robbed of my motherhood and I earned these stripes. During my pregnancy, I experienced what most mothers experience throughout the entire life of their child. So, why should my motherhood and his life matter less?
To the stranger in passing, they will never know of my motherhood. I walk around each day carrying my son in my heart and not in my arms. I feel the pain and loss of him that comes with this particular type of motherhood. Looking in the mirror, I see the scars left- the stretch marks (my Kolbe tattoos) and marks from endless times I had my blood drawn during my pregnancy with Kolbe.
These individuals who are pro-choice believe they are giving women, more specifically mothers, more "rights," but they are robbing us of our titles and utmost dignity. They believe that the mother should have the right to choose an abortion to save her life if at risk. Don't take the "easy road" on this as it may seem like a solution to a "problem" at the time. All pregnancies come with the possibility of health risks, but how could a mother destine her child to abortion? With that choice, you are taking away your motherhood and replacing it with the guilt that comes with not advocating for your child in the most vulnerable stage of their life.
How did you hear about Angel House Rescue Orphanage and what were your deciding factors in building Kolbe's legacy by supporting them?

Growing up I always said I wanted to open an orphanage. I never imagined my son would give me this gift.
This became a reality because of my husband, Colin. He is a business owner/entrepreneur and because of this we have grown to love the show, Shark Tank. This show is about individuals pitching their business ideas to the "sharks" who chose whether they would like to invest in their company.
Prior to my pregnancy with Kolbe, I remember seeing a company, Grace and Lace, on the show. They explained that they started an "accidental company." They were pregnant with their first baby and at their routine ultrasound realized that there were complications. Melissa had surgery and was admitted to the hospital, bed ridden for the remainder of her pregnancy. With all this time that she would have she decided she would sew her baby a blanket. Unfortunately, two weeks after the surgery the Doctors could not stop her labor and their daughter was born. The doctors told them their daughter would not make it as her lungs were not developed enough at this point.
Her love for sewing and knitting began to grow. Melissa made herself a cute pair of boot socks. Everywhere she wore them, people would ask where she got them. She put them online to see if people would be interested in buying them and got four hundred requests. From there, Grace and Lace began.
Recently, ABC released a show called, Beyond the Tank. Basically, this show showcases the success of various companies that were previously on Shark Tank. Grace and Lace premiered on the show right after we were released from the hospital. They were having quite a bit of success with their company. They decided they wanted to partner with Angel House and have a portion of every sale go toward building one of these orphanages in India to house 50 orphans each.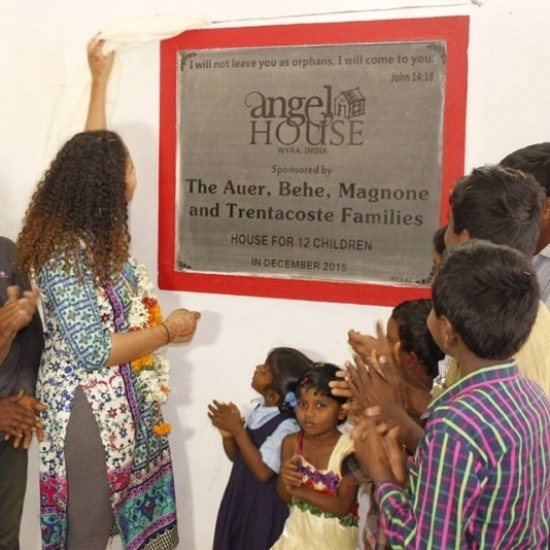 I was curious so I researched if there was a possibility that the Kolbe Scott Fund could take part of the money raised and open a home. We are building a 12-child orphanage this upcoming June. It will take 12 children off the streets of India and provide them with a new life. This is all because of our little man, Kolbe Scott Hurd.
What advice would you give to other mothers who have experienced or will experience the loss of their baby?
First off, welcome to the club. I know you did not want to be a part of this club and neither did I. I have met, as will you, some of the most extraordinary women and mothers because of this experience. I know this doesn't replace the emptiness you feel from your devastating loss, but it is a grace that comes from it.
To anyone experiencing an in-utero diagnosis or the loss of a baby; embrace it. Fiercely love your baby no matter how hard it is. Spend this time loving and nurturing your child while they are physically here. I know it is scary, but do it. Do things with them that you desired to do with them prior to the diagnosis. I am not going to lie and tell you that all of this does not come with suffering, but if you allow it in your life you will experience so much more beauty. I promise.

I wish I could go back to the moment we received the diagnosis and tell myself that it would be okay and we would make it through this together as a family of three.
Christ will weep with you and give you the graces you will pray for.
I would tell myself to be considered blessed as most women don't carry babies with this diagnosis as long as I did.
I would tell myself that I am the luckiest mom out there.
To help the Hurd Family continue building Kolbe's legacy
by funding an orphanage, please visit:
https://www.crowdrise.com/babies-building-orphanages/fundraiser/colinhurd