Our Mary Altar
May is one of my favorite months of the year. Everything is in bloom. There's an overwhelming sense of renewal and rejuvenation as we spring clean our homes and the world becomes warm and green again. Many Catholic churches are having May Crowning ceremonies to honor Mary. The second weekend of the month, we celebrate Mother's Day.
During the month of May, we celebrate mothers and most important, our Holy Mother Mary. During May, we don't just celebrate women who give birth, but also the culture of motherhood and those with a mothering heart. Our Holy Mother is such a powerful example of the spirit of motherhood! While the month is nearly half over, it is not too late to do something special to honor her and celebrate the gift and culture of motherhood. There are so many things you can do; both simple, on a daily basis, and ongoing!
Here are some ideas:
1. Create a Mary altar
This is a space created to venerate and honor Mary. It doesn't have to be elaborate. Find a Mary statue and surround her with fresh picked or fake flowers, candles, Rosaries, pictures of your loved ones, etc. You can put it in the common space of your home or in a quiet space where you do a lot of your reflection and prayer time.
2. Complete a Novena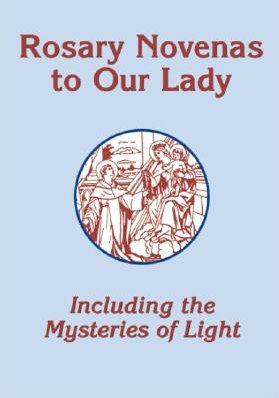 You can find this super helpful novena booklet for around $5 online or at your local Catholic store. It is very thorough and helpful at guiding you through a novena-whether it's for 9 days or for 54 days! Want to hear an interesting story about how praying the novena changed someone's life? Check out Jackie Francois' testimony HERE!
3. Say a daily Rosary or Divine Mercy Chaplet
4. Read this beautiful and inspiring article about The Perfect Mother over at Mercy in the Mess!
5. Take food to a mom with a new baby or mom who is overwhelmed. Or, volunteer to watch her kiddos while she takes some much needed rest! You can use online sites like www.takethemameal.com to organize meal trains with several of your friends!
6. Volunteer at or donate items to a crisis pregnancy center.
For more ideas, check out this wonderful article at www.simplecatholicliving.com!
Holy Mother Mary, pray for us and help us draw others closer to your Son through the spirit of motherhood!